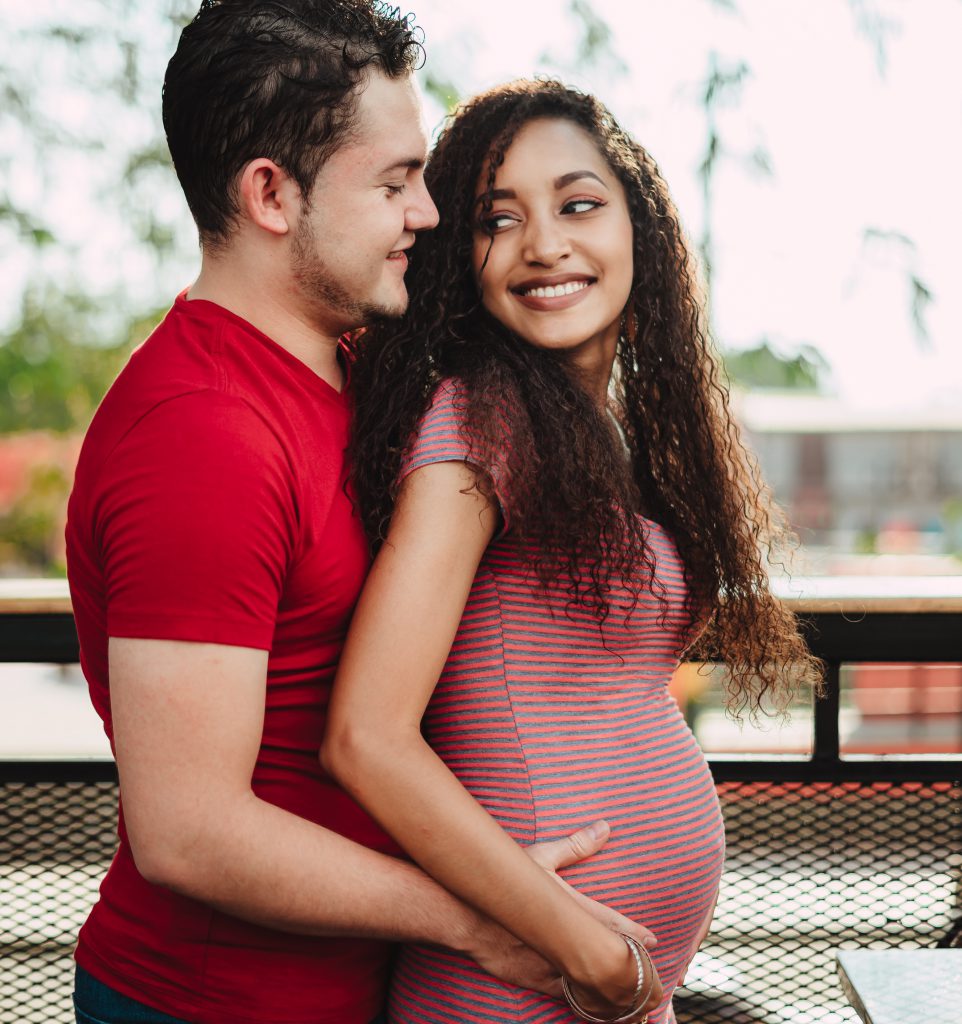 De eerste stap die nemen na dat je gebeld hebt of via de mail contact heb genomen, is dat we een afspraak maken wanneer je ongeveer 8-11 weken bent. Deze afspraak zal ongeveer 30-45 minuten duren. Hier zullen we dingen zoals jou medische geschiedenis van jezelf, je partner en jullie ouders. Leer je ook ons team kennen.
So this appointment will be mainly focused on getting to knew each other and discusse what your pregnancy will look like. So what wil be really be discussing:
– address and supportive I.D. documentation
– Information concerning your insurance
– calculation of your due date
– information over past pregnancies, deliveries, miscarriages, abortions
– your medical history
– your family history, in particular congenital disorders, e.g. down syndrome, edwards and spinal bifida
– Information concerning your lifestyle and your eating habits
– De verwachtingen die kunnen gebeuren aan de hand van uw medische verleden.
Tijdens het eerste gesprek zullen we uw bloeddruk meten. Ook gaan we dan bloed afnemen om uw bloedgroep en rhesus te bepalen. Hierdoor kunnen we ook controleren voor mogelijke rubella virus, HIV, Hepatitis B en SOA's of die er zijn. Wij doen ook metingen van voor verschillende hemoglobinopathie (na controle van uwe suikergehalte in het bloed).  
Aan het einde van het gesprek maken we nog een volgende afspraak en mogelijke scans. Dit is afhankelijk van hoeveel weken u bent.
Komt u we nou pas later achter dat u zwanger bent. Dat is helemaal niet er, u kunt altijd bij ons langs komen. Als u bij ons komt en meer dan 12 weken bent dan maken we ook gelijk een afspraak voor u bij de STAR in het ziekenhuis om naar het hartje van uw baby luisteren. 
Meer leuke informatie over zwangerschap kan je vinden online of gewoon bij de praktijk zelf aan de informatie muur aan de linkerkant in de wacht ruimte.
Most people wonder when they get to hear the heartbeat of the baby. Now with new technology we are able to see your baby and you can also see the heart beating. Listening for the heartbeat with the ultrasound machine from 10 weeks . During your pregnancy you will have different scans. 
We offer information about:
- Prenatal screening
– Uitgerekende datum scan ( de worden gedaan rond de 10-14 weken)
– Pret scan; bepalen van de geslacht van het kind. Kan alle vanaf 16 weken
– 20 weken scan.
Het bovenstaande zal aan u worden uitgelegd tijdens de eerste en latere bezoeken. Heeft u nog specifiek vragen over scans.
Ultrasound
In an ultrasound procedure, a device known as a transducer is placed on your abdomen. The device send out sound waves at your developing baby. The echoes created by the sound waves are turned into visual images of the baby's face, limbs and organs other internal structures that can be seen on a monitor. Over the course of you pregnancy you will have a number of scan to see the development of your child. Extensive studies to date show no evidence of ill effects or harm to the baby by these sound waves.  
What can ultrasound detect ?
–Many birth defects early in pregnancy that otherwise would go undetected until birth 
– Babys growth 
–Placental position
–Number of babies present 
– Confirmation of due date
–Other information about your pregnancy that can be useful to you and your health care provider 
You should not feel pain of any kind as this is a non-invasive test. A few ultrasound that you may have heard of are the foetale echocardiogram and anomally scan. 
A fetal echocardiogram is a detailed ultrasound evaluation of the babys heart structure. It is performed in pregnancies at increased risk for congenital heart disease. Fetal echocardiograms can detect most cases of serious, life threatening congenital heart problems. 
A targeted ultrWasound examination looks at a specific organ system or part of the body. It is used to try to detect any trouble before birth in pregnancies at increased risk for specific genetic or physical problems. As with many medical tests, ultrasound is not perfect. Because of factors that can develop later in pregnancy or interfere with the ability to clearly see all of the babys internal structures, an ultrasound will not detect all birth defects.
After the first appointment, the following will be around 16 weeks. We can listen for the heart of the baby and will explain the results of the tests. Then Structural Ultrasound examination (SEO) or the 20-week ultrasound will take place between 18-21 weeks. The SEO looks at structural (physical) abnormalities of the unborn child. Between 18-36 weeks there are different antenatal sessions you can make with our assistant.
At about 34 weeks there will be a house visiste with your case manager. Togthers you will dissusse what you can expect during the delivery. 
Schematic course of checks:
12-24 weeks: every 4 weeks
24-30 weeks: every 3 weeks
30-36 weeks: every 2 weeks
from 36 weeks: every week.
At 16 weeks you come to us for the second check. If you are worried in the meantime, you can always drop by we can to listen the heart beat of your baby. You can hear your hear the heart from the 12th week of your pregnancy.
The more your pregnancy progresses, the often you will be checked. During these contoles we will inform about a number of further investiagtions that can be done during pregnancy. For example, a blood test that looks at your blood type and Rhesus factor and looks at a number of infectious diseases (Lues, HIV and Hepatitis B).
We regularly have antenatal classes about the pregnancy and delivery. Ask the assistant for the more information
At 27 weeks we test your blood if you are Rhesus D or C negative.
For more information about the blood test click here.
Around that time (between 24 and 28 weeks) a Glucose Tolerance Test (GTT) is also done. Glucose (sugar) is present in many nutrients. The GTT has been developed to investigate whether you have pregnancy induced diabetes. The investigation requires you drink concentrated sugar drink, but the first blood sugar levels will be done, when you have been fasting from the night before, followed by you drinking the sugar drink and two hours later your blood sugar levels taken again.
With both blood tests we answer your questions and reflect on your experiences. We advise on the complaints that you experience as a result of the pregnancy.
Between 34 and 36 weeks we will discuss the delivery with you by means of a home visit that is agreed with your case manager.
Als wij reden zien voor extra onderzoek of mochten er complicaties optreden kunnen we je verwijzen naar de gynaecoloog van het Ikazia of het Maasstad ziekenhuis. Zolang je zwangerschap normaal verloopt zul je bij ons onder controle blijven en heb je de keuze om thuis of in het ziekenhuis te bevallen of in het Geboorte or moeder en kind centrum
If you like, the first ultrasound can be made around 7-8 weeks. It is good to realize that the pregnancy is still early in this period. A good ultrasound is good news, but unfortunately it often happens that a pregnancy ends in a miscarriage. About one in ten pregnancies goes wrong between the fourth and eleventh pregnancy week. The growth of a child is very vulnerable during this period. The chance of two miscarriages in succession is fortunately very small; but that does not make a miscarriage any less sad.
If you have a miscarriage, we will contact you very soon after you've had the ultrasound scan. There are various options for treatment. Everything we discuss with you also comes in writing so that you can read it in peace. We keep in touch frequently with you; tailored to what you need.
After a miscarriage it is good to take the time to process it. The pregnancy may not have lasted long, but the parents have often had many dreams, plans and expectations. Medically, there is no reason to postpone a new pregnancy, but take the time you need mentally to recover.
If a new pregnancy is desired, continue to use folic acid.
For other advice we refer you to our brochure or to our on call midwife.